2-in-1 Pet Nail Clippers & Grinder with LED light
Introducing the World's Most Innovative Nail Clippers for Pets
The 2-in-1 Nail Clippers & Grinders for Pets is a revolutionary nail grooming kit for pet that has both clippers and grinder in a single device. It is no doubt a convenient little device that could save pet owners from expensive trips to the vet or pet groomer.
This innovative yet simple device makes clipping your dogs (or cats) nails quick, painless and mess free.
The main feature is the built-in LED flash that is used to light up the nail so you can avoid the quick, a point in the nail that can be incredibly painful for your furry friend. We've also added a 'nail catcher' container to collect the bits cut off, insuring that you don't need much of a clean up after finishing your grooming session.
SPECIAL FEATURES
2-in-1 Design
With this upgraded version you will be able to complete the entire nail clipping and trimming process all in one device.
Dual Built-in LED light
With the super bright LED lights, you will be able to see the location of kwik inside the nail to prevent over-clipping and hurting your pet especially in low light condition.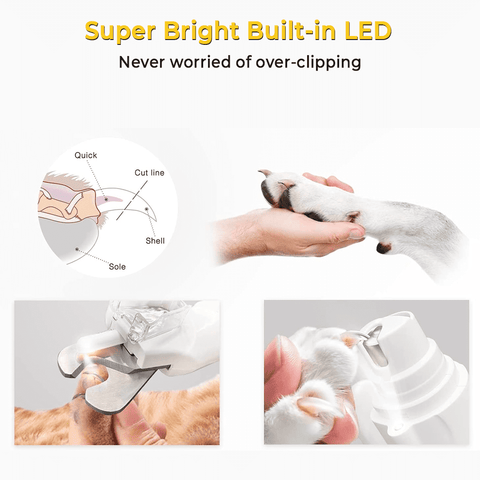 Low Noise <50dB
This device will not scare your pet as it has super low noise (<50dB). Now your pet is free from fear and tense feeling during grooming time.
Strong & Sharp Clipping Blades
The clipper is made of 3.5mm high-quality stainless steel. Its durable structure and sharp design makes it safer and more efficient for you to clip pets nail.
Equipped with 'Nail Catcher' Storage
The 'nail catcher' storage is designed to allow you to temporarily storage the nails after cutting, which can prevent the sofa or the floor from getting dirty.
Rechargeable & Portable
The nail clippers for dogs is equipped with a lithium polymer battery and a new stable charging system. Battery life time up to 3 hours once fully charged.
Wide application
Suitable for different kinds and sizes of pets. It is very simple & easy to use. Everyone can easily use it, starting from pet owner to professional groomer.
What's Included
1 x Pet Clipper & Grinder
1 x USB charging cord
1 x User Manual