Portable Mini Wireless Dog Fence
Tired of running and catching your lovely dogs who love to run outside the door? Do you want to train your dog to stay inside the set boundaries without having to pay an expert to discipline your dogs? If yes, then you definitely should check this product!
Mini Wireless Dog Fence is a mini wireless dog fence that will help you train your dog to stay inside the boundaries designated by you. Although it has smaller size compare to other wireless dog fences, but the usability is almost similar. It is suitable for dog owners who have a smaller backyard.
Special Features
3 Training modes, 100% humane, no shock. It gives a signal to dogs through vibration and audio that can be pre-recorded by the dog owner
Large coverage area - It covers up to 850ft diameter circular area
Adjustable collar size up to 28 inches
IPX7 waterproof construction
No wire. So you don't need to dig and bury wire or stack in your backyard
Rechargeable battery, continuous usage time up to 100 hours
How To Set Up
Step 1 - Paring
Step 2 - Set alert voice
Step 3 - Set the receiver mode of the dog's collar
Step 4 - Install the receiver
Step 5 - Install the transmitter
Step 6 - Test the boundary
Step 7 - Set the training flag
What's Inside
1x Wireless Fence Transmitter
1x Collar Receiver
20 x Training Flags
1 x Power Adapter
1 x Instruction Manual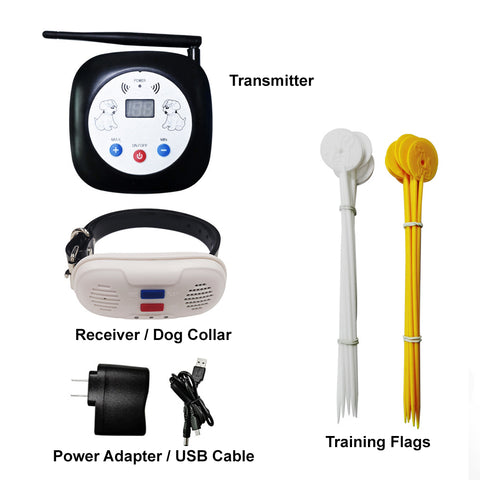 NOTE
Due to high demand, we recommend you to place your order promptly
During the current situation, it may take a slightly longer shipping time